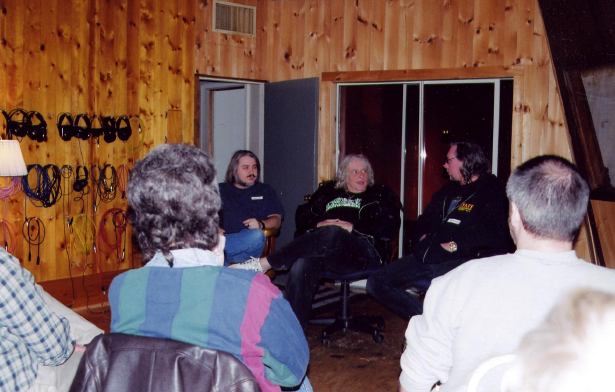 David Correia, Phil Greene, Fletcher at Celebration Recording Seminar
Celebration Recording Seminar:
"Songwriting" with Elliot

Celebration Sound held our seventh in a series of one day Recording Seminars, "Songwriting, Producing, & Engineering."

Celebration Recording Seminars, hosted by Celebration owner David Correia, are a unique opportunity to spend an afternoon with successful professionals in pro studio in a small group.

Our very special guest was songwriter Elliot Willensky. Elliot has written hits for Michael Jackson, Whitney Houston, Smokey Robinson, Chaka Khan, Jermaine Jackson & many others. ( Click here to see more of Elliot's credits.)

The purpose of the seminar was to give folks the chance to ask their questions to a successful songwriter.

The first half of the seminar was spent in the main recording room answering all questions. After a short break, we got back together in the control room, where we listened to songs and used the studio gear to demonstrate some of what we talked about.

The focus of this seminar was songwriting. With tips to help with your songwriting to questions about copywriting and licensing your songs to talking about the vital engineering decisions that come into play - microphones, great compressors and eqs, mixing, etc.


If you'd like to see pictures of a previous Recording Seminar where the subject was recording drums, click here.