Welcome To Our Website



Celebration owner David Correia with Aubrey Atwater. Photo by Elwood Donnelly.

We're in our 38th year - yikes!!! - of serving the Rhode Island,
Massachusetts & Connecticut music, advertising & multimedia community.
We've been a successful business here in Greater Providence for two simple reasons:

We consistently deliver great sounding recordings for our clients.
We're nice folks.
Seven years ago Celebration transformed from a large public recording studio to a smaller,
more private one. We've recorded many albums in our new space with such talented artists as:
Atwater Donnelly Trio, Ed Sweeney, Mark Small, Jenna Greene, David Chandler, Kim Trusty,
Fishel Michael Bresler, Martin Grosswendt, Susanne Salem-Schatz, Bill Harley, Chris Turner,
Yang Wei, Sandeep Das, Torrin Ryan, Jason Valcourt, Steve Burke, David Tanury, & many others.


Click here for lots of pictures on our Facebook Page.
You don't have to be a Facebook member to view it.
Professional Vocal Recording
If you are a singer looking for a top notch yet inexpensive recording, we can record
your voice with one of our very expensive microphones while you sing to
instrumental versions of your favorite songs, available for around a dollar from iTunes.

Mastering
If you have already recorded & mixed something at home or at a friend's, bring it to us
for our highly regarded professional mastering service. It will make a big difference.

Mixing
We are ready to assist you with your recording in any way we can.
If you have multitrack recording projects ready to mix, our talented ears, great gear
& 35 years of experience can deliver professional mixes for you.

Recording Classes
David has been teaching recording to students since 1982. How often does one have the
opportunity to learn from a Grammy winning engineer with 34 years experience?
Click here for more info.

We Also Do Voice Overs, Multimedia & Commercial Projects
Projects such as voice-overs for Pop Up Videos on VH1.
Celebration has a dedicated phone patch that allows out of town producers
to be part of the session. Our voice-over work is highly regarded.
Click here for more info.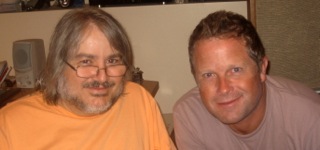 On the right is Woody Thompson, co-creator of Pop Up Videos, with David Correia.
Johnson & Johnson, working via phone patch with their Los Angeles agency,
used Dr. Robert Leonard to record a series of spots for Rogaine.

On Location Recording
We now offer multitrack recordings of your live performance.
For 25 years we have recorded concerts and choruses live, direct to stereo
using our great mics & Grammy winning engineering experience.
With our new equipment we can do live multitrack recording.

Grammy Awards

Artist Bill Harley with engineer David Correia have been
nominated for a Grammy Award 6 times.
They have won 2 Grammys.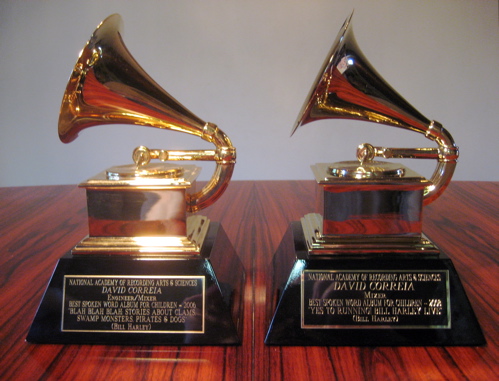 The New Bedford, MA paper had an article about David.
Click here for an article about Celebration owners David & Cathy Correia.
(Scroll down to the middle of the page.)
Professional Studio Gear

We own extraordinary outboard gear and an impressive array
of microphones, collected over our 33 years of recording.





Click here to see our full Gear list.

Looking For a Great Gift Idea?
How about a Celebration gift certificate?
Click here for more info.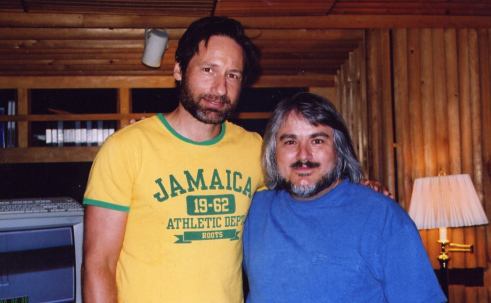 Here's a visitor from the X Files, David Duchovny, who did some voice-over work
for a Showtime movie and for the Orlando Sentinal newspaper.
And yes, he was a helluva nice guy. The handsome guy with the beard
and mustache is Celebration owner David Correia.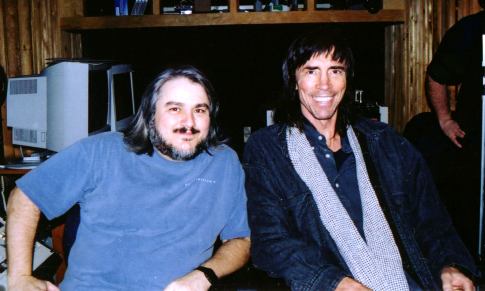 David with Boston's Tom Scholz in our Warren control room
after Boston's live radio broadcast from Celebration Sound.
Here's engineer extraordinaire Shelly Yakus. Shelly has worked on a ton of famous stuff.
Click here to see his impressive and long list of credits.
("Shelly's work has sold in excess of one hundred million records,
equaling over one billion dollars in sales." -Wikipedia)
Shelly's making Celebration owner David Correia look like a Mouseketeer
because Shelly at the time was not a fan of audio computer software.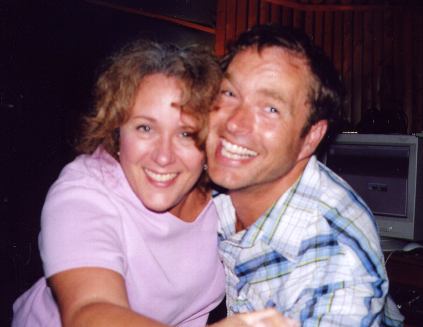 Jim O'Connor, the host of Food TV's "The Secret Life Of …" and studio manager
Cathy Correia dance around the control room after completing voice-overs for
two episodes via phone link with his North Hollywood producer.





A few years back Celebration Sound had the pleasure of hosting a live radio & Internet performance of Boston.
20 lucky contest winners from around the country were invited in-studio
to be part of it. The band played 2 sets and held a 30 minute question/answer session.
Click here for pictures.
Thanks for visiting our site!